Online educational content can be in the form of online classes, online textbooks, research papers and educational videos, all available digitally. Open educational resources (OER) are free educational materials that can be used for teaching, learning, research, and other purposes.
Openly licensed educational content grants the right to copy, distribute, digitally perform and make verbatim copies of the work into another format. Their license also has worldwide application which lasts for the entire duration of the copyright.
Khan Academy is an extremely popular OER. 80% of my friends in university currently use this site to aid their learning process. Khan Academy offers a wide spectrum learning resources, with over 6500 videos on different topics ranging from Math & Science to Arts & Humanities, Economics and Finance. This OER is mainly popular amongst students and is easily accessible as its available online for free. For people that don't want to sign up, their videos are also available on their YouTube channel.
Not only does Khan Academy offer educational videos, they also have different teaching material like notes including diagrams. During high school, I had to study the entire respiration process in detail, which was quite taxing. With the help of the illustrations of the different cycles in the process of respiration shown below, I was able to learn better.
The interactive quiz shown below tested my knowledge and further helped me understand the process.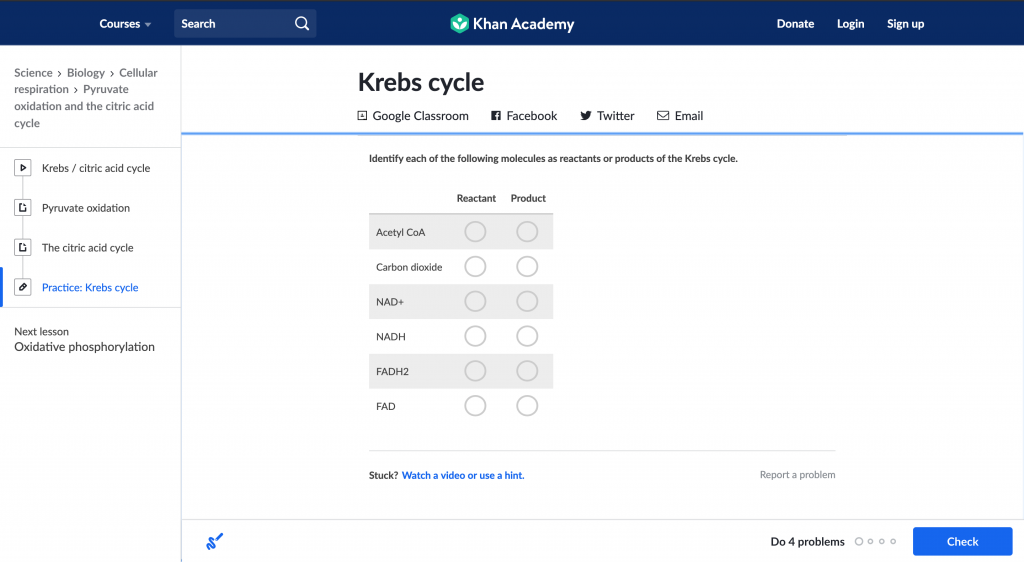 The main components of the OER Evaluation Guide checklist are relevance, accuracy, production quality, accessibility, interactivity and licensing. As mentioned earlier, Khan Academy's educational content focuses on numerous topics, and address different objectives related to that topic. Since it is a professional OER, it is factually correct. In my personal experience, I have never found any errors while using Khan Academy's resources. The quality of education they provide is top-notch. They use visual aid such as videos, images and audio to help better understand concepts, while displaying information in a clear and concise manner. Khan Academy offers most of its materials in English, but to increase accessibility, a huge amount of its content is offered in over 10 languages. In the picture above it can be seen that this OER utilizes different learning methods such as having quizzes at the end of different topics, ensuring interactivity and creating opportunities to increase learning and understanding. As for licensing, Khan Academy allows users to download content and also share it amongst other users. Legally, all the content on the site is owned by Khan Academy and is copyrighted and trademarked.
It is important to know that every student has a different capability and it is impossible to expect them to be at the same level. OERs are extremely useful in such situations, since students have access to an abundance of resources, facilitating them to learn better. During my first semester of first year, I had to take CSC110, a mandatory programming course for my program. Since I don't have a very technical background, it's safe to say this class was quite challenging for me. It was a lecture of 200 students, so it was impossible for the professor to incorporate personalized learning in their class. For situations such as this, number of YouTube videos and crash courses are available at our fingertips that provide us with all kinds of information. I watched a 4-hour crash course video before my CSC exam, which helped me pass that course. Not only can you watch these videos at your leisure with no time restrictions, you have the ability to skip parts you find redundant or re-watch some parts that you did not understand the first time, which is exactly what I did.
I think it is important for us to explore the different resources available to us and take advantage of them. OERs make learning and understanding easier, faster and convenient for all parties involved and more people should incorporate OERs in their lives. I definitely will be using more OERs in the future to improve my method of learning.